Plight of the Tivinel
A novel by Jeff Pages
Available free of charge as a PDF ebook here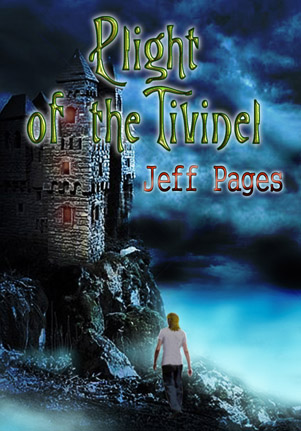 In truth, all things are the same.
Trapped on Earth in 1989 after rescuing his twin from the Blue Mountains wilderness, Pedro falls into the clutches of the evil Barradhim. Under pain of death, he must lead them on a mission to neutralise Peter, all the while trying to solve the riddle of his own existence. But as he soon discovers, knowing the future is no guarantee of making it come to pass, for a third player is seeking to throw all that once was into turmoil.
In the uncertain future of 2071, honeymooning couple Joel and Loraine are walking barefoot through France along the Paths of Saint James, but are stalked by an inquisitive blonde-headed man. In an ancient abbey the trap is sprung, shattering their dreams in an abduction that sends shock waves through both galaxies.
On a mythical river called Styx, a lone ferryman, believed to be the last of his people, hears rumours that descendants of his kin are hiding in scattered enclaves. With the re-emergence of the Barungi on Huntress, he must act quickly before a chance union can plunge the universe into a dark and endless tyranny.
Set five years after Cry of the Bunyips, this story continues the adventure begun with Barefoot Times, Call of the Delphinidae and The Mind of the Dolphins.
Welcome to the Plight of the Tivinel website
Plight of the Tivinel, the fifth novel in the Barefoot Times series, has now been published, taking our barefoot heroes on a roller coaster ride as they're drawn into an attempt by descendents of the once-mighty Tivinel to rewrite history. Follow Pedro and Joel as they try to find their place in the universe without being killed in the process.
Here you'll find a foreword by the principal character Joel Morison, a refresher on the Tivinel from The Mind of the Dolphins, the first chapters of Parts 1 and 2, and a gallery of photos that inspired settings in the story.

Visit the book's blog at http://plightofthetivinel.wordpress.com for more news and story trivia.
Vital Statistics
Publisher: Zeus Publications
ISBN: 978-1-922229-84-7
Pages: 409
Words: 120,000