Barefoot Times
A novel by Jeff Pages
Available free of charge as a PDF ebook here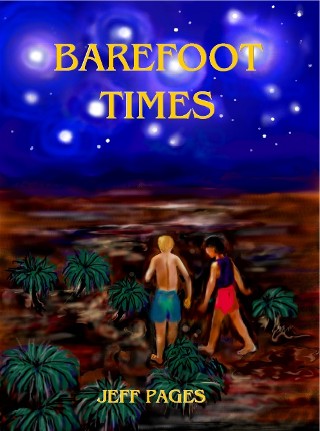 A million years ago the last of the Barefooters, keepers of the peace in a far-away galaxy, crash-landed on a planet near what is now the Pleiades cluster while fleeing their Enemy. Over time they began planting the seeds of civilisation throughout the Milky Way, but a nearby stellar eruption rendered their adopted world uninhabitable and the few remaining survivors fled and disappeared.
On fourteen-year-old Peter Thorpe's first day at his new school in the country town of Narrabri, he is befriended by a lonely Aboriginal boy named Billy Collins. Before long they discover that they share not only a love for astronomy and barefooting, but a destiny that changes the course of history. For they carry within them spirits of that lost race and a time is fast approaching when ancient prophesies are to be tested and perhaps fulfilled.

Welcome to the Barefoot Times Website
If you've read the book I hope you enjoyed it, if you haven't I hope you'll buy one! Here you'll find some additional background material including a chronology of the major events in the story, an author's commentary, a photographic tour of places featured in the story and Internet links to some of the towns and creatures I've used. There's also a News page where I'll keep you up to date with the progress of the book's release and events such as book signings.
Vital Statistics
Publisher: Zeus Publications
ISBN: 1-9208-8474-2
Pages: 500
Words: 200,000