Rise of the Gomeral
A novel by Jeff Pages
Available free of charge as a PDF ebook here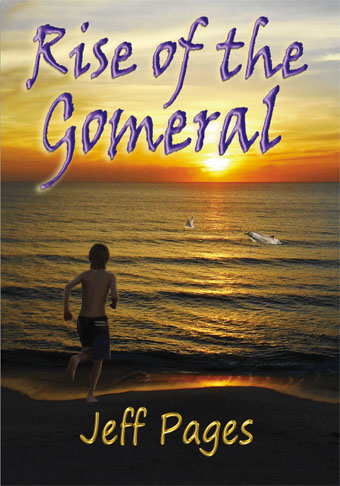 The days on Huntress are darkening.
The Tivinelís star dimmer has stopped the planetís fossil-fuelled warming by diverting much of the sunís energy away, but crops are now failing in the faint light. For the Gomeral slaves, food is increasingly scarce and whispers of rebellion grow.
At the forefront, Pedro finds himself guiding his people towards the future he came from, knowing all the while that one false step will destroy everything he has sworn to protect.
But all may be in vain, for in that future darkness also falls on the far-flung descendants of those Gomeral. Bashed and imprisoned on Hazler, David Collins faces execution because of his genes, while Joel and Loraine must unravel a genetic mystery of their own as a new omniscient Pasha comes into his powers.
On the precipice of war, friends become foes and unlikely allegiances form as the last vestige of peace slips towards oblivion. Yet a glimmer still remains of sunshine, warm seas and love; of a simple life, lost long ago but perhaps even now still redeemable.
Welcome to the Rise of the Gomeral website.
Rise of the Gomeral, the sixth and final novel in the Barefoot Times series, has now been published. Follow Joel and Loraine, Pedro and Elsa, David, Cam and the rest of the barefoot crew as they try to find their place in the universe without being killed in the process.
Here you'll find news on the book's progress, a series timeline, a refresher on the cast, an introduction to the Gomeral, excerpts from three of the early chapters, a map of the Huntress settlements, a gallery of photos illustrating some of the scenes and my author commentary.
Vital Statistics
Publisher: Zeus Publications
ISBN: 978-0-6482230-5-4
Pages: 394
Words: 115,000