A Holiday on Earth
A novella by Jeff Pages
Available free of charge as a PDF ebook here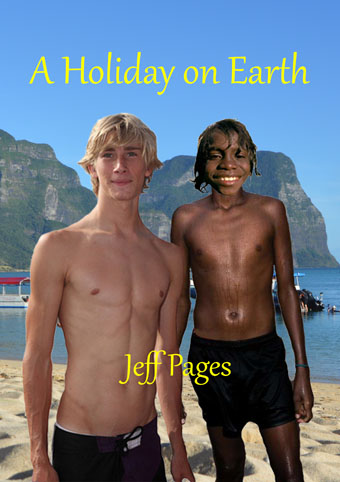 Born on Hazler into one of the galaxy's wealthiest families, Cam Dunn became their black sheep when he turned his back on business to pursue his passion for subspace physics. Rooming with David Collins at Apogee University on Cornipus, he was drawn into a roller-coaster ride through space and time to ancient Huntress, where he almost lost his life in their battle with the psychopath Tristan.
Given a two-month break from their studies to recuperate, he accepts David's invitation to join him for a holiday on Earth, with Lord Howe Island their retreat of choice. The relaxing white sands and warm waters soon transform into a life-changing experience as they face the island's morbid history, the challenges of a climb up Mount Gower, an interstellar smuggler and a dark secret from Cam's past that rocks the foundations of their relationship.
Near the end of Plight of the Tivinel, David invites Cam to spend their two-month break from university hanging out with him at a beach somewhere on Earth. Nothing more is said about it, either in the conclusion of that book or in Rise of the Gomeral, but it's something I've always felt could be fleshed out in a short story.
The first question I had to answer was where to send them. Earth's a fair-sized planet and while not in the same league as Shimmel, it still has plenty of potential holiday destinations. After some thought I settled on Lord Howe Island, mainly because it's somewhere I've been and is a place of stunning natural beauty with plenty of opportunities for the sort of adventures these two barefoot lads would enjoy. It was also a place where I thought their special bond, revealed in Rise of the Gomeral, might have been both forged and tested.
It's taken over four years to write and grown well beyond the short story I'd first envisaged, but I hope it's been worth the wait.
Vital Statistics
Publisher: self-published
Pages: 130
Words: 32,000